Who and Where are our Clients?

Our Founder
Founded by Sister Patricia Ann Kelley, CCVI
In the wake of a deadly heat wave in the summer of 1980 and a devastating blizzard in 1982, Sister Patricia Ann Kelley founded EnergyCare in 1983 to provide protection from the deadly hazards of extreme cold and heat for the elderly, disabled and needy. As the founder, first president and executive director of EnergyCare, Sister Pat initiated projects that warmed, cooled and educated the low-income people most at risk of illness, hospitalization or death.


How We Serve
EnergyCare works to protect low-income, home-bound people—especially the elderly, and seriously ill or physically disabled adults and children—from illness, hospitalization or death from summer heat or winter cold. When people in need call EnergyCare's year-round telephone helpline, Service Providers counsel them about surviving their energy-related crises. They furnish information about heating and cooling bill assistance programs, and, most importantly, they also identify and help vulnerable people who have immediate needs. We install home weatherization materials, setup portable heaters and electric blankets, or simply give out standard blankets for immediate warmth. For the heat we install window air conditioners.

Our Funding
EnergyCare is funded by the generous contributions of local individuals, corporations, foundations and religious and civic organizations. EnergyCare gratefully accepts donations of cash, materials or in-kind services provided by volunteers. EnergyCare does NOT take used window unit ACs donations.The IRS has determined EnergyCare to be a 501(c)(3) organization. Therefore, contributions to EnergyCare are tax deductible as allowed by law. Contributions can be made on-line, by check, or credit card. Call 314.773.5900 to make a contribution.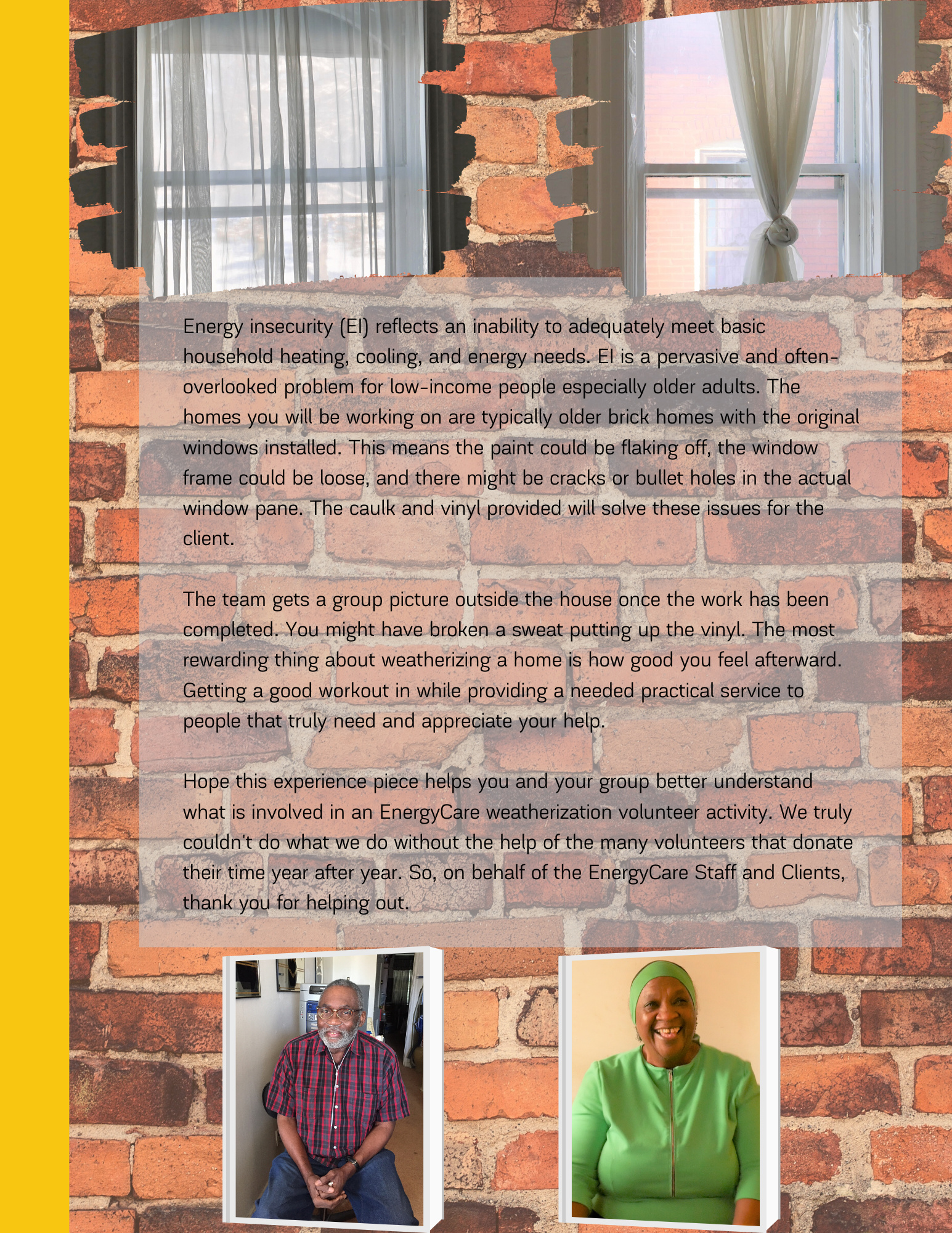 Letter from the Executive Director
Letter From the Executive Director The impacts of Covid 19 are alarming and highlight the struggle some people having staying at home. Many of us were caught off guard. Once the heat of another St. Louis summer starts sizzling, a lot more of vulnerable people will have a hard time coping at home. EnergyCare is planning now for an extraordinary summer demand for A/C units. Last summer more than 3,000 people called us looking for help. This year, the consequences of the crisis will complicate peoples' lives even more as they run out of resources. The St. Louis summer heat is dangerous for many low-income seniors, people with disabilities and chronic health problems.
For many people EnergyCare serves the hot summer weather can also affect the quality of life— many kids with asthma spend their summers in and out of the ER without an air conditioner in the house. Complications from Corona virus may prove deadly for some of our neighbors. EnergyCare's approach begins with the underlying cause of problems: high energy costs, tight monthly budgets, poor energy efficiency of homes, and lack of awareness around solutions. The strategies EnergyCare employs in the summer and winter are very straight forward, practical and cost-effective. This process can happened fast for most clients. If they call on Monday, we can usually show up by Wednesday and have their problem solved.
With your help, EnergyCare can help more our clients face the challenge we know they will face this summer, as we all try to stay safe.

Tim O'Dea
tim@energycare.org